I am now living in Kyoto.
I will write about this in depth in a little bit, but first I just wanted to write up my last few days in Tokyo.
Just to remind myself - communsists, kareoke, lost in translation
Wow, it's been a while since I've blogged, I have to think back to the 9th to recap.
My comrades invited me to the Japanese Communist Party's magnanimous 87th anniversary meeting. They also asked if I wanted to take part in a "Lifestyle, labour discussion". I thought that was going to be some kind of protest/march/rally. It wasn't quite.
A lifestyle, labour discussion (生活労働相談, for the initiated) is when the JCP go to the streets and interview people about their life and work. They either get people to fill in forms or hold more in-depth discussions with a few They talk about the details of their welfare, give them information about union membership and social security. They have a form of petition when you add your sticker to a list of woes you'd like the government to sort out, and more generally the JCP gather real people's opinions about what political and economic changes they'd like to see. This information is then delivered to the social security offices and hopefully informs policy making. A lot of their efforts is spent talking to the homeless, a group that sadly is rapidly growing in Japan.
It is too easily for even the most concerned person to dehumanise the homeless. Though we might strive against these sorts of prejudices on a rational level, when we see a drunken homeless person, someone raving, or even just begging, I fear a part of all of us feels they might deserve to be where they are, might question what benefit they are to society. Now, this is of course wrong. And in Japan just how wrong this is is brought home by meeting some of the homeless. Japanese society (I suppose like all societies actually, though maybe in a more defined sense over here) often works by sorting people into us and them, self and other, "in group" and "out group". When you are in group you are looked after. Japanese businesses have traditionally rewarded their worker's loyalty with very generous health, security and pension schemes. However, once you are in the out-group, outside the mainstream of white collar salary man work or unionised blue-collar work, you are fucked. There is little in the way of a social safety net. Speak to a Japanese homeless person and you may well find that they are fluent in English, once worked in middle management for a multi-national corporation and used to have a very nice (if Japanese sized) house indeed. People who bemoan the British welfare system need only look across the Eurasian landmass to see people of very similar backgrounds to themselves sleeping on the street.
Ah, a good polemic. The real point is, the JCP are the only party in Japan who partake in this very special, very democratic consultation process with the people. It's this attitude that makes me respect them so much. Oh yeah, I did the flyering, and pointed people towards JCP members they could talk to.
As for the anniversary meeting, it was pretty interesting. The first thing that struck me was what a huge building they were able to fill up.
The main speaker was Shii Kazuo, leader of the JCP.
I could understand about 25% maximum of his speach, though I caught that there was a lot about the other Japanese parties, a lot about the Japanese-American relationship and a fair amount comparing statistics about Japan with those from the rest of the world. I could also tell that, though not quite of
Obama standards
, he was an engaging and lively orator, something very rare in Japanese politics. He punned, and played on the JCP's outsider status (there was a big laugh when he told some joke about "being out of the loop") and he's respected by the rank and file. Perhaps by the time of the 88th I'll actually be able to understand what he's saying...
Other than that, me and the student volunteers talked about the state of the Left in Britain. I was asked whether most students had an interest in politics. I told them that the average student is indifferent, but a lot of students are pretty concerned about the environment, gay rights and racism. Do you think this is accurate?
I asked about getting involved in student politics at Doshisha and was told to be careful. Kyoto is Japan's most left leaning city ("But I thought Kyoto was very traditional?" "They're left wing because they want to protect those traditions") and Kyoto University in particular has a history of violent student activism. When one talks of Trotskites in Japan, it calls to mind
this sort of thing
and there are a few of those sorts lingering at Doshisha. If I open up to easily about my orientation, I might be recruited by some unsavory sorts in helmets. Fuckin' 'ell. Well, the JCP reject violence and for them political activism is about the democratic processes I described above. Basically I just need to pop down to my local friend Communist Branch Office and ask if there's a student group I can join, being sure not to forget to mention my volunteering in Tokyo. And one of my friends in Tokyo has promised me a shoukai, an introduction - something that oils the cogs of Japanese society and has a lot of etiquette surrounding it - to a JCP friend in Kyoto. Plus, it turns out that Tadatoshi Tasiro-san, the one I met down at the Main Office who helped me campaign in the first place is a bigshot within the party and could definitely help me get some connections. Result. I had a lot of fun with the Tokyo students, and I hope to meet them again, my experiences thus far with the JCP have been really special, and I'm looking forward to continuing with them this year.
These are some people who were outside the anniversary meeting.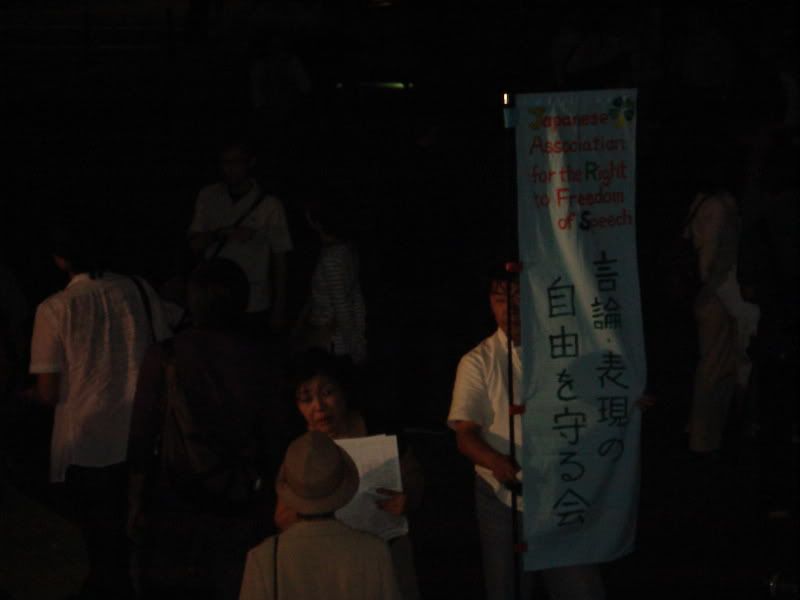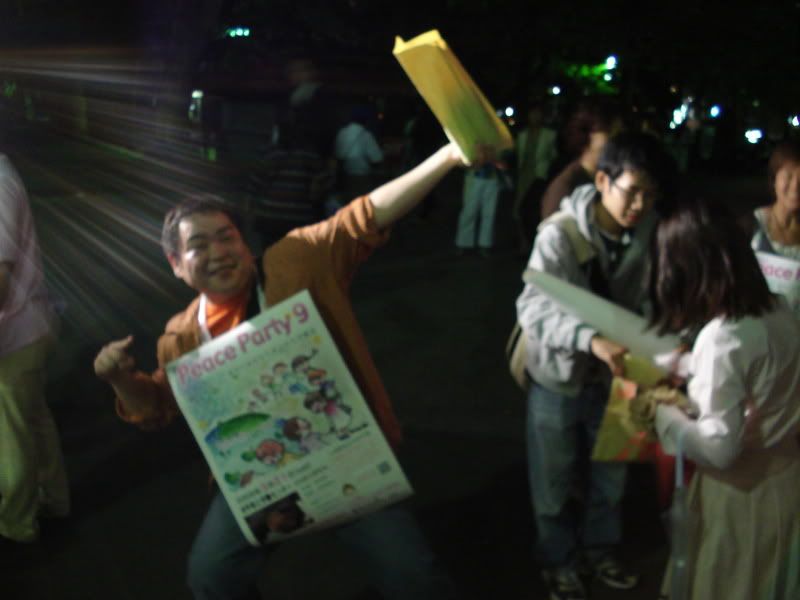 But to move from the workers to the bourgeous, on the 10th me and my friends from Cambridge had a few drinks at the New York Grill in the Tokyo Park Hyatt. (Being a champagne socialist is better than being a champagne Tory, and I prefer whisky anyway.) You have to dress to the nines to get in. That sentence is there purely because I love the phrase 'dressed to the nines'. It was very nice, but ULTRA expensive, and weirdly enough they were pretty stingy with the drink servings. But we all managed to milk 2 and a half hours out of a couple of drinks each.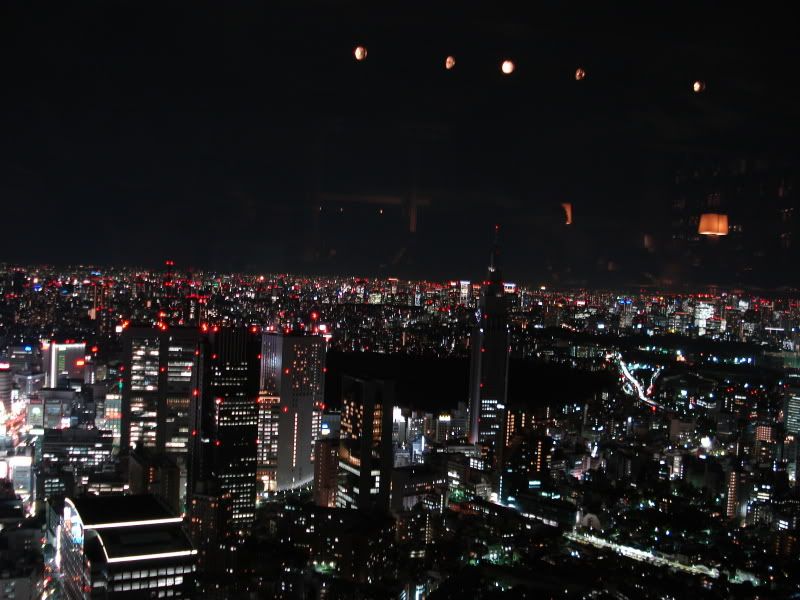 BONUS PICTURE
Then moving from bling-swank to indie-chic, I left the Cambridge crew (sorry guys), and met up with my Tokyoite friends in Shimokita-zawa, the Brick Lane of Tokyo.
We had some drinks in a nice small bar.
When we were suitably inebriated around 2:30 we hit the kareoke box and covered everything from
The Blue Hearts - Linda Linda
, the only Japanese song I know the words for, to
Britney Spears - Toxic
, and all sorts of 80s hits/pop punk classics in between. At 5 we were kicked out, the girls having had a bit much to drink and stumbling home in a cab, me with 6 and a half hours to kill before my train to Kyoto and with no accommodation because I thought I might as well save the money and stay up. Obviously I find the nearest Manga-kissa, Internet Cafe and settle down there. Most manga-kissa are nice, large darkened rooms with secure cubicles and reclining seats. This was a smaller room, brightly lit with flimsy cubicles and curtains for privacy and office chairs. Following an hour messing around on the internet, it was in these conditions I managed to get 2ish hours of low quality sleep. God Bless Japan o/ But I woke up at 9 and caught my train, and now I'm in Kyoto.
I had a really good time in Tokyo. It's become my second city, there's nowhere in the world outside London I feel more comfortable in. Cambridge doesn't count, it's just London guys. Important environmental considerations, finance, friends and family notwithstanding, I could easily see myself dividing my life between the two great metropolises. But now I'm gone, and here starts a new chapter. I am now living in Kyoto.
<3<3<3